Voice Recording Devices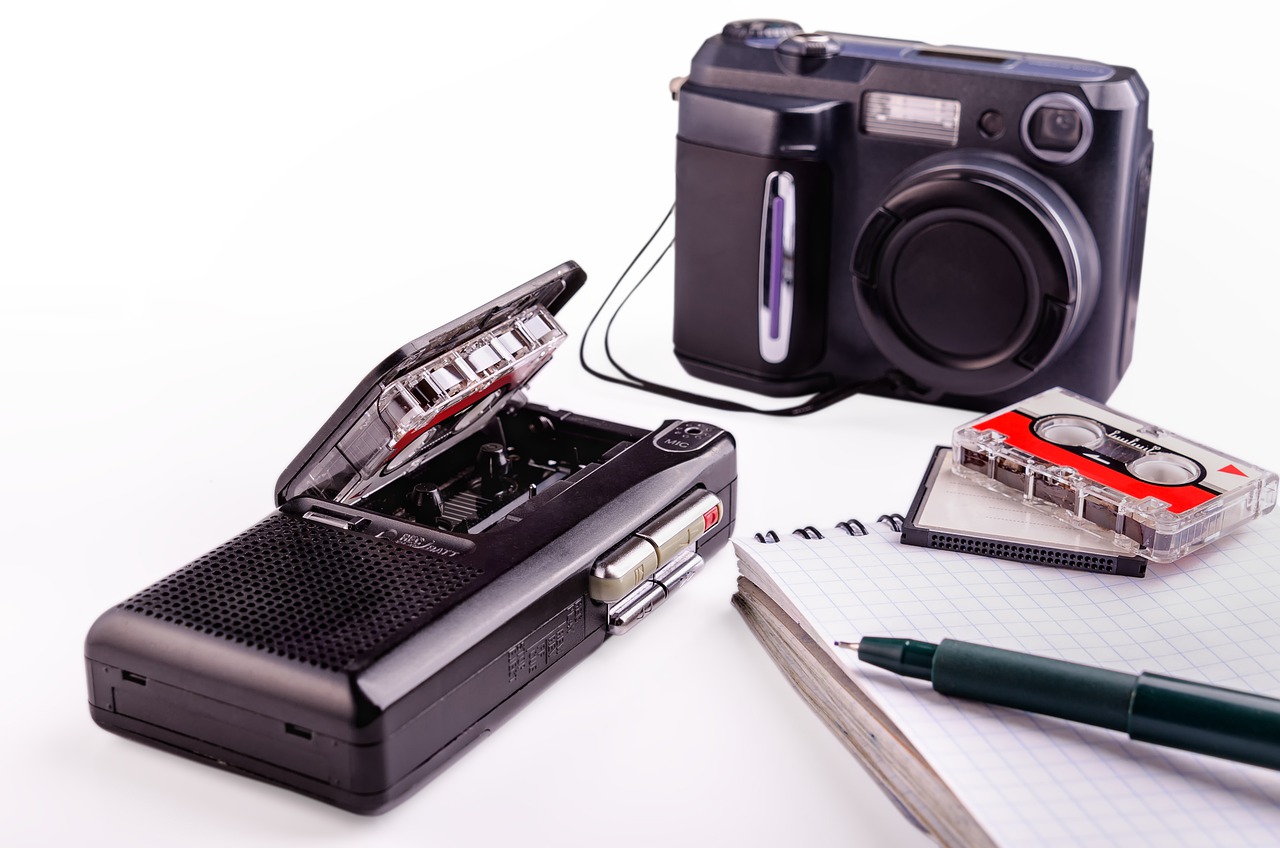 The article contains information on different aspects of voice recording devices, how to record high-quality sound, the differences between recording a voice and taking notes, tips on what you should consider before buying a voice recorder, where you can use a voice recorder, and the best voice recording devices.
1.Introduction
2.Where is a voice recorder used?
3.How to record a high-quality sound?
4.What should you consider before buying a voice recorder?
5.Recording voice or taking notes?
6.Best voice recording devices according to Wirecutter
Introduction
It is hard to imagine any smartphone that comes without a voice recorder (sound recorder) with all the technological advances in our time. Smartphones are everywhere, which means anyone who owns a smartphone has access to a sound recorder. Even most regular mobile phones have built-in sound recorders. Statistics show that smartphone users will increase in number, which in turn means more and more people will have access to sound recorders.
Since the introduction of voice recorders, a lot of different fields have used them and continue to do so. Especially with so many people using social media across the world, there is a huge demand for content, and sound recorders are used in almost all kinds of content created for audiences. The content can be in the form of video, audio, or a written post.
Even though almost all phones have a voice recorder installed, these recorders may not be enough for professional purposes. Certain fields require more than smartphones to record audio. We will talk about the professional use of sound recording devices later in this article.
Most of the sound recording devices are portable and can be used almost everywhere. It is worth noting that some of these devices can be pretty expensive.
Where is a voice recorder used?
Voice recorders are used in many fields for different purposes. Here's a look at some of the ways voice recorders can be used to enhance productivity and achieve better results.
Interviews
As one of the primary data collections methods, interviews are used almost by every researcher no matter what the research topic is. A voice recorder is considered to be the primary tool used by interviewers. An interview is the main data collection method in qualitative research which uses open-ended questions. Having many open-ended questions means the interviews may last for quite a while. The best way to capture all the details is to use a voice recorder. You can listen to audio repeatedly to look for small details.
Lectures
Today, it is pretty hard to imagine any lecture without a voice recorder. People mainly use mobile phones to record lectures. As with interviews, lectures may last even for hours, and the best method to catch as many details as possible is recording the lecturer's voice.
Podcasts
People create podcasts for many different reasons. Some share their interests, talk about topics they want to shed light on or promote products and services.  The podcast market is growing rapidly, and according to Businesswire, the global podcasting market is expected to reach $41.8 billion by 2026.  Needless to say, all podcasts are created using voice recorders.
Meetings
Even though some meetings are held in private, some are recorded to analyze the meeting details better.
Self-assessment
You may practice for a speech or may want to assess your language skills. Recording your voice lets you hear yourself and correct any mistakes or shortcomings. You may also send the audio file to your friends, colleagues, or anyone who can listen and share their opinion.
Audiobooks
A lot of people prefer listening to books rather than reading. You can do laundry, cleaning and listen to an audiobook at the same time. Audiobooks should be created using professional voice recorders in order to capture emotions in the narrator's voice.
How to record a good quality sound?
Here are some tips you can use to get high-quality sound:
Check if the device microphone is intact. Some devices have perfect built-in microphones, but it is recommended to use external microphones for professional purposes as they may bring better results.
Put the recorder close to the speaker so it can record the conversation without missing details. If there are multiple speakers, try to use multiple microphones or put the device in close proximity to all the speakers.
Choose a calm, quiet spot for conversation as background music and noise may lower the sound quality.
Ask the speakers to talk one by one. Multiple people talking at the same time can make the audio difficult to understand.
Additionally, you should make sure that the device battery is fully charged to avoid interruption if the battery dies. This may cause issues both for you and the people you interview.
What should you consider before buying a voice recorder?
Voice recorder brand
It goes without saying that the brand name is the first thing that comes to mind when we think about buying something. Sound recording devices are no exception. Some of the brands have been in the market for many years and have a huge following. Today, most of the world uses the internet, and it is one of the best ways to know about certain brands and what people say about them. Even though some of the brands have a review section on their websites, the same thing can't be said for all of them. In this case, it is recommended to check big retail company websites such as Amazon, eBay for reviews left by customers. Usually, a higher number of positive reviews means more people are satisfied with the product. Additionally, trusted technology websites, blogs, forums are good ways for getting information on devices.
Record a sound and listen to it
Although most customers try the device before buying it, some don't bother checking it. It is also not a good idea to check a voice recorder when there are a lot of people talking in the background.
Make sure the sound recorder comes with a guarantee
Almost all technology pieces are offered with a warranty, but the longer the guarantee period, the better. Some companies offer a golden guarantee for the device. Buyers should consider choosing a golden guarantee for voice recorders because they are almost always in users' hands and can fall down easily.
Memory capacity
The memory capacity may play a big role in choosing a device, especially if the user records long audio. For instance, some interviewers record hours of audio during a day, and depending on the audio quality and length, the audio size increases. A sound recorder with a large memory capacity is able to store hours of audio and, therefore, is more convenient for the user who works with lengthy audio files.
Compatibility with other devices
Another thing buyers should pay attention to when buying a sound recorder is its compatibility with other devices. You may want to connect it with other devices. Therefore it is essential to check if the recorder software and hardware support other devices.
Voice recorder size and design
Depending on its purpose, you should consider the size and design of the voice recorder. If you hold it in your hands regularly, you should opt for a smaller voice recorder. It should be handy and not heavy. If you place it on something to record a voice, a bigger-sized voice recorder may not cause any issue.
Recording voice or taking notes?
People may record voices or take notes during interviews, lectures, or any other events. Although note-taking is a traditional method used to capture details, the rise of smartphones allowed users to record voices anywhere and anytime. What are the similarities and differences between recording voice and taking notes?
    By using a smartphone, you can record a voice and take notes. Recording a voice may not be a good idea if the background is too noisy or the talk isn't something you want to record, considering the audio file size is sometimes large. Instead of recording, you can take notes and include essential information.
    Recording a voice means you can transcribe audio – convert audio to text. You can do it yourself, hire a professional transcriber or use automatic transcription software. A transcript is useful if you have a lengthy audio file and need to analyze it thoroughly. Automated transcription software such as Voicedocs lets you search the entire transcript with keywords and find trends easily. You can take as many notes as you want but still miss essential information.
    Listening to moderators or speakers may be a frustrating task for some, especially for those who have a short attention span. In some cases, if you miss parts of the talk in a meeting, lecture, or any other event, you can easily go back and listen to the missed part if you have recorded voices. Additionally, people with a short attention span may also have difficulty in taking notes.
    If you are familiar with the topic and don't expect to hear anything groundbreaking throughout the talk, you can just take notes or even just listen.
Best voice recording devices according to Wirecutter
As mentioned throughout the article, professionals in some fields use professional voice recording devices rather than simple smartphones.
Two years ago, Wirecutter did research and tested 12 different voice recorders in different settings - from a quiet office to a noisy classroom. Devices were used for conducting interviews, recording lectures, meetings, etc. According to that research, the voice recorder that came on top was Sony UX560. It is equipped with a USB port that can be used to recharge the device and transfer files to other devices. At the time of research, this model offered 4 GB storage and 39 hours of recording time in MP3 format and had 27-hour battery life.
Olympus WS-853 was the runner-up. Even though its menu was harder to navigate, according to the article, it had 8 GB storage and 130 hours of recording time at the time of research, much higher than the top pick.
As a thumb rule, it is recommended to research before buying a device. The two recorders mentioned above are just some examples that were tested thoroughly. It is essential to check reviews out before deciding on buying any of them or a device in general.